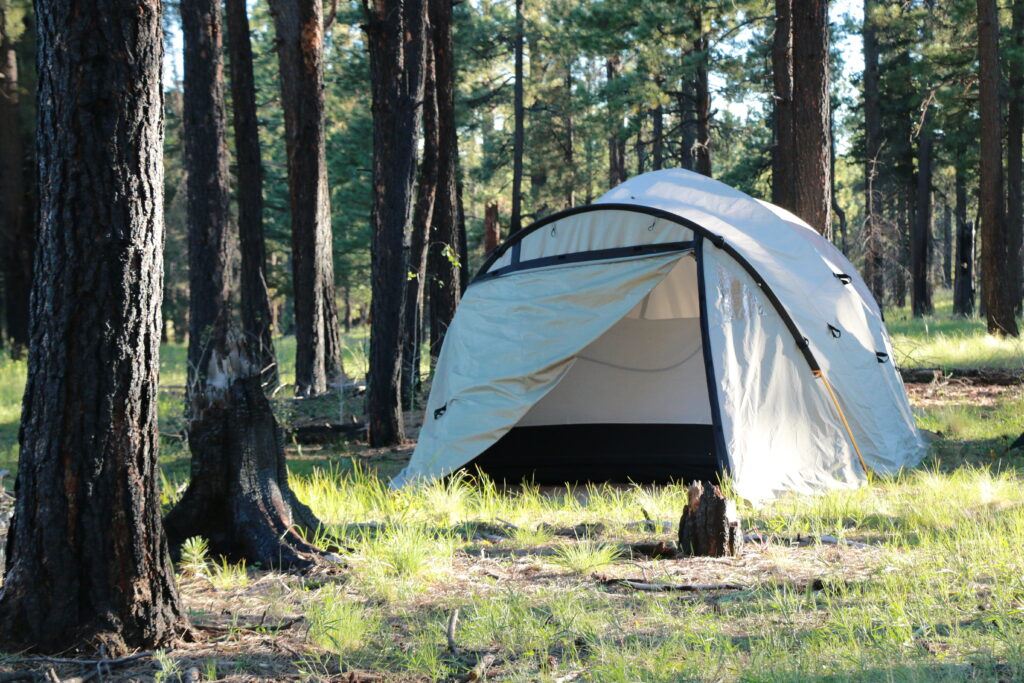 There are so many beautiful places to go camping in Arizona! I put together a list of ten free (dispersed) campgrounds and a summary of each located within the Arizona National Forests.
The USDA Forest Service defines Dispersed camping as a term "used for camping anywhere in the National Forest outside of a developed campground". This type of camping is more primitive, and generally has no amenities such as trash collection, water or toilets; hence the reason there is generally no fee to camp (may have a National Forest Day use fee in some cases).
This resource is a great place to start and will give you great ideas on beautiful places to camp in AZ. Of course once you decide, research further from there.
Arivaca Lake Campground
This remote and tranquil campsite is located in the Coronado National Forest. See yourself immersed in rolling grasslands, beautiful rocky buffs ,strolling along the lake and viewing distant mountains. If you really want peace and quiet during your camping stay, then this is the place for you. The only amenities here include a toilet and a primitive boat ramp. At Arivaca Lake, you can fish for blue gill, catfish, or largemouth bass. This dispersed campsite is open year round. Be sure to bring your own water and a valid fishing license is required.
I think the name Arivaca is pretty cool so I decided to look up it's meaning. "Ari" (Ali) means "little," "vaca" (wahia) refers to a place where water comes up. Early Spaniards recorded the name as Aribac.
For more information, contact the Nogales Ranger District: 520-281-2296
Blue Crossing Campground
The Blue Crossing Campground is located in the Apache-Sitgreaves National Forest, and is at an elevation of 6200 ft. This no fee campsite (with a total of 4 camp sites) is remote, serene, and off the beaten path. With a 14 day stay limit, you will be at a spot that makes a great base camp for exploring the Blue Range Primitive Area. Amenities include tent camping, camping trailer (16'), picnic table and vault toilets. The best season to go is spring and fall, but this also aligns with the hunting season which is busy. Have a great time checking out nearby petroglyphs, fishing for trout, or hiking the Tutt Creek Trail #105.
For more information, call the Alpine Ranger District: 928-339-5000.
Eucalyptus Campground
This year round campsite is located in the Tonto National Forest near Globe, AZ.
This is a great campground to stay and play if you enjoy fishing, water recreation and wildlife viewing. You'll be close to the Salt River Canyon Wilderness; one of the few rivers that flows through the saguaro cactus forests of the Sonoran Desert.
Four wheel drive vehicles are recommended to access the shoreline from the paved parking area. There are no fees or passes required to camp and the stay limit is 14 days.
For more information, call the Tonto Basin Ranger District (602) 225-5395
Chevelon Canyon Lake Campground
This campsite is also located in the Apache-Sitgreaves National Forest. You can't go wrong with this campsite. Awaken your senses with the smell of ponderosa pine, juniper and pinyon pine and incredible views. With a fairly short hike, you can catch some rainbow & brown trout at Chevelon Canyon Lake. Amenities include tent camping, camping trailer, picnic tables, vault toilets. Best season to camp here is between May through October.
For more information, call the Black Mesa Ranger District: 928-535-7300.
Childs Dispersed Campground
This Childs Dispersed campsite is located in the Coconino National Forest and is a very popular dispersed camping area. It is close to what used to be an operational power plant building on the Verde River. Here is where you can access the ruins of the Verde Hot Springs (once famous resort) with a short hike upstream. This campsite is open year round, with no amenities. The Fossil Creek in general is a very popular place in AZ so don't expect to have this campsite all to yourself. There is a 5 day stay limit here vs. the typical 14 days.
For more information, contact the Red Rock Ranger District: 928-203-2900
Cinder Hills OHV Area Campground
This campsite is in the Coconino National Forest and is best for those who have OHV's. In my opinion, Cinders is the premiere place in Arizona to ride your OHV! Here you will see volcanic cinder cones, craters and ponderosa pine trees; definitely a unique place to camp. I mainly see RV's here- no tent camping. It is free to camp here- but there are no amenities either. Please abide by the Leave No Trace principles- pack it in, pack it out. This area is one of the most unique places in AZ.
Be careful as you are pulling in with your vehicles/RV's because some of the trees have little dug out tracks around them. I would not recommend this place for families with small children- unless you go there specifically to ride.
The Cinder Hills OHV Area is managed by the Forest Service- 928-526-0866.
Indian Hollow Campground
This campground located in the Kaibab National Forest is open year round, and the 3 sites are on a first come first serve basis. This site is not ideal for RV's or large groups of people. There is a vault toilet but water is not available. Things to do include sightseeing, wildlife viewing, and hiking. This campsite provides access to a network of trails within the Kanab Creek Wilderness area. Here are some images on Flickr to get a better idea of what this campsite looks like. https://www.flickr.com/photos/kaibabnationalforest/sets/72157672786630508/
For more information, call the North Kaibab Ranger District at 928-643-7395 or the Kaibab Plateau Visitor Center at 928-643-7298.
Prescott Basin Dispersed Campground
This camping area is located in the beautiful Prescott National Forest within the Bradshaw Ranger District. With 59,000 acres, this land makes up 4% of the PNF. You can stay in these dispersed campsites for up to 7 days within a 30 day time frame. This is to keep people from actually "living" in the woods.
Look for the marked vertical poles that read, "Dispersed Campsite". Each site has a fire ring, a place to park and an area to set up your tent. The Prescott National Forest is a great place for wildlife viewing, hiking, mountain biking, off roading and horseback riding.
Here is a map of the entire Prescott Basin- you will see there are many campsites to choose from.
Sheeps Bridge Campground
Located in the Tonto National Forest, Sheeps Bridge was constructed in 1943-44 for- you guessed it, so sheep could cross! The bridge cost $7,277 to build and in 1978 was entered into the National Register of Historic Places. You do need a four wheel drive & high clearance vehicle to get into this campsite. It is very remote so there are no amenities- you must bring your own water and abide by the pack it in, pack it out rule. There are zero fees and a permit is not required to camp here. You literally can camp right next to the river- but be cautious of the fact that the water levels can fluctuate greatly depending on the season.
Cave Creek Ranger District (480)-595-3300
Sycamore Campground
Located in the Coronado National Forest, Sycamore Campground has 7 dispersed campgrounds that sit on the banks of West Turkey Creek. Relax under the sycamore and oak shaded sites and listen to the perennial stream and small waterfalls that cascade into the campground. If you like to hike then you'll be pleased with the variety of trails that you can choose from that start from the campsite. Amenities include tent camping, camping trailers (16'), picnic tables, toilets, and parking. Water is not available so you will need to bring your own.
For more information, call the Douglas Ranger District: 520-364-3468.
Whitewater Draw Wildlife Area
The camping area at Whitewater draw is perfect for RV wilderness camping. It has very close access to hiking trails through the wildlife area where the main attraction is the abundance of bird species, and especially the Sandhill Cranes. Pit toilets and picnic tables are available but be prepared to bring you own water. Check out this article if you'd like to learn about more places to bird watch in AZ.
At this time, you cannot rsvp a campsite- for more information, visit the AZ Game & Fish Department.
10 Best Free Campgrounds Summary
You really can't go wrong at any of these places. There is so much variety & beauty in all of these different camping spots. For me, camping is a means to go hiking and mountain biking. Depending on what you like to do will also determine the best site for your recreation needs.
I would love to hear from you if you've already stayed at one of these places- or head on back here once you have and let us know what you think!
Happy Camping!!